How To Make Soft Outdoor Area For Children To Play With Artificial Grass In Vista?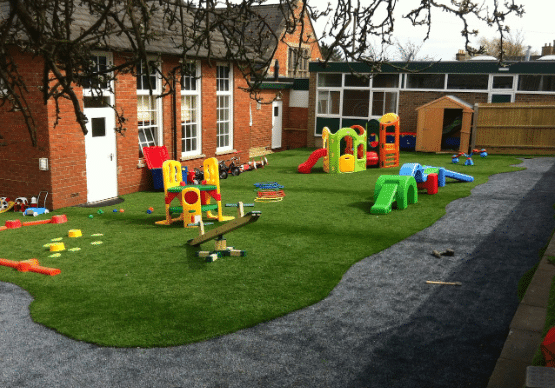 Artificial grass is becoming increasingly popular for outdoor play areas. It offers a safe and soft surface for children to enjoy the outdoors without having to worry about dirt, mud or other messes from natural grass. Here are seven tips to help you create an ideal outdoor play area with artificial turf:
Choose the right type of turf. Artificial grass has many different varieties, each designed for specific uses such as indoor/outdoor playgrounds, sports fields, pet areas or general landscaping purposes. Make sure you select the appropriate type that is suited to your needs and budget.
Measure carefully before installation. You will need to have accurate measurements in order to get the right amount of turf and ensure it fits properly in your space. It is best to enlist the help of a professional installer who will be able to ensure the correct measurements.
Prepare your area properly. Make sure you remove any rocks, roots or other debris and level out the soil as much as possible before laying down the turf. This will ensure that your artificial grass can be laid flat and look its best for years to come.
Choose an appropriate infill material. Different types of infill should be used depending on where the turf will be installed and what activities it may need to withstand (such as playgrounds). Sand, rubber pellets, cork granules or foam are all popular options – ask your installer which one they recommend for your specific needs.
Use edging to define the area. Edging can be used to help define the play area and ensure that the turf stays in place. This is especially important if you have children who may accidentally wander outside of the designated play area.
Install a drainage system. Artificial grass will still get wet when it rains, so make sure you install a proper drainage system to prevent any standing water or flooding in your play area.
Clean regularly and inspect for damage. Even with artificial grass, regular maintenance is necessary to keep it looking its best and functioning properly over time. Make sure you sweep away any debris on a regular basis and inspect for signs of wear or damage due to heavy usage from children playing on your turf.
FAQ's
Is Artificial Grass Good For Outdoor?
Yes, artificial grass is a great choice for outdoor play areas. It provides a soft and safe surface for children to enjoy without worrying about dirt, mud or other messes from natural grass.
How Long Does Artificial Grass Last?
The life of your artificial grass will depend on how it is used and cared for. Properly installed and maintained synthetic turf can last up to 15 years or more.
Do I Need Special Cleaners For Artificial Turf?
No, you do not need special cleaners for synthetic turf. A mild detergent should be sufficient for cleaning the surface of any dirt or debris that accumulates over time. You may also want to use a brush or broom to help remove particularly stubborn stains.
Conclusion
It is easy to see why artificial turf is becoming increasingly popular for outdoor play areas. Not only is it safe and soft, but it also requires very little care and maintenance compared to regular grass. For more information, contact Artificial Turf Vista at (760) 316-1167.