What Are Common Mistakes People Make When Designing Artificial Grass Landscapes In Vista?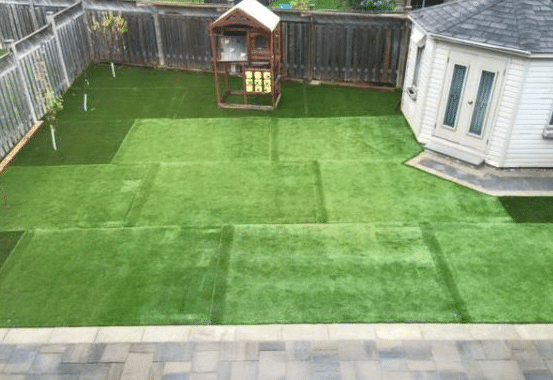 Artificial grass has become increasingly popular in recent years. It's a great way to instantly transform your yard and create a low-maintenance outdoor space for entertaining, relaxing and playing. However, there are some common mistakes people make when designing their artificial grass landscape that can have costly consequences. Here are some of the most frequent:
Edging is essential to creating a clean and polished look for any landscaping project, artificial grass included. Without it, turf may start to shift or erode over time due to foot traffic or weather conditions. Consider using brick or decorative stone borders along walkways, patios and other areas adjoining artificial grass for maximum stability.
Artificial grass does not require regular watering or mowing, but it does need to be installed on a surface that can effectively drain away water. Make sure the subgrade (base) is compacted soil or gravel with adequate drainage capabilities and check for any potential runoff issues from surrounding areas like gutters or driveways.
Sunlight can cause artificial turf to fade over time and become less attractive. If you're installing turf in an area that receives more than 6 hours of direct sunlight per day, consider using an advanced UV-resistant turf product to keep your landscape looking its best longer.
While artificial grass may be low-maintenance compared to natural grass, it still requires occasional maintenance to stay in top condition. This may include regular brushing and raking of the turf, as well as periodic cleaning to remove any dirt, debris or pet waste.
Infill is a layer of sand or rubber granules that helps support and provide cushioning for artificial grass blades. Not installing enough (or any) infill can cause turf to become matted down with heavy use, leading to an unattractive appearance over time.
FAQ's
How Do You Fix Artificial Grass That Won't Lay?
If your artificial grass won't lay flat or is pulling out of the ground, it may need to be re-secured. Start by removing any loose sections, then use nails or turf staples to secure the edges and corners. Finally, use a broom to brush against the grain of the turf until it lies flat.
Can Artificial Grass Be Installed on Concrete?
Yes, artificial grass can be installed over concrete surfaces as long as there is adequate drainage below. If necessary, consider adding a drainage mat before laying down a layer of compacted gravel and base material for added support and stability.
Is Artificial Grass Pet-Friendly?
Yes, artificial grass is a great option for pet owners as it can be easily cleaned and maintained. However, to keep your turf looking its best longer, consider using an advanced pet turf system with extra padding and specialized drainage capabilities.
Conclusion
It is possible to create a stunning artificial grass landscape with minimal effort. However, there can be costly consequences for not following the proper installation and maintenance practices. For more information, contact Artificial Turf Vista at (760) 316-1167.